All-in-One Workforce Management Solution for Post-Acute Care Facilities
The SmartLinx Schedule Organizer software is a comprehensive solution that allows you to manage schedules and track your employees with Time and Attendance software. This all-in-one platform can onboard new employees, organize your payroll, understand your Affordable Care Act (ACA) compliance and get in-depth insights on business analytics.
Scheduling and Finance Built for Post Acute Care Facilities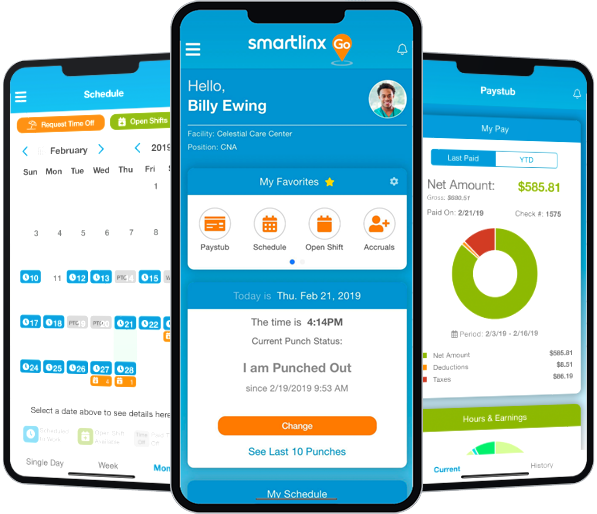 Hiring and onboarding have never been easier than they are with the Schedule Organizer. Using the integrated SmartLinx system, you only need to input a new employee's information into the system once. Save time and money by managing human resources, tracking applicants, administering benefits and completing payroll from a single platform with an integrated system from SmartLinx. What's more, our convenient solution puts a high-performance employee time tracker on the same platform as your other SmartLinx Solutions.
Keep your finances organized and secure with our financial compliance software. This solution lets you keep track of your ACA Director and keep a Payroll-Based Journal (PBJ). An ACA Director makes sure you're in full compliance with the Affordable Care Act. We automatically analyze your employee activity and health plans to help you understand how they interact and the impact of new federal codes.
With the PBJ feature, you have access to all your payroll information during audits. The PBJ feature even keeps track of the Centers for Medicare and Medicaid Services' regulations, including those restricting contractor hours and overnight shifts. Your payroll can be audit-ready with the click of a button.
Analytics for a Skilled Nursing Workforce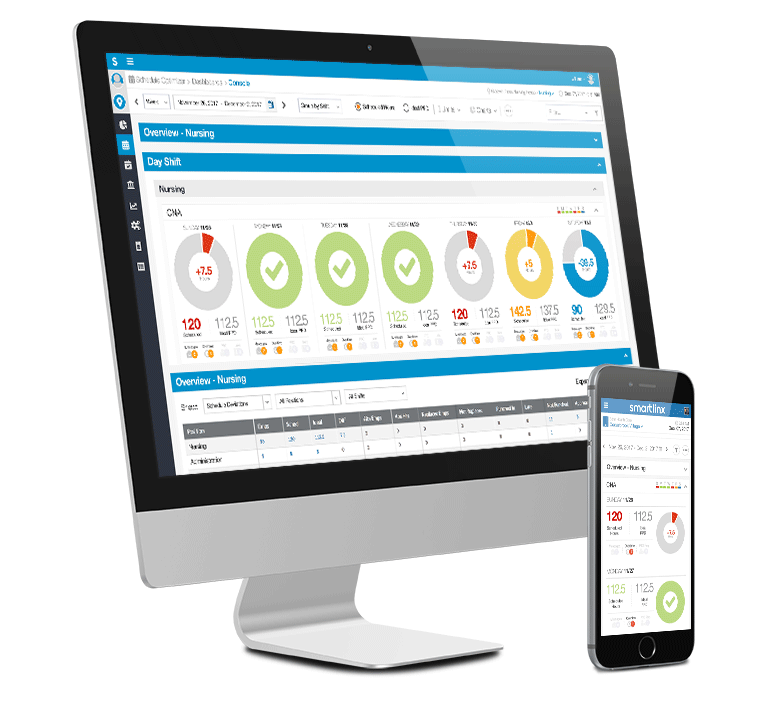 You can get in-depth insights into your operation with business analytics from Spotlight. Spotlight automatically calculates metrics like understaffing and projected overtime so that you can use your staff to the best of their abilities and prevent scheduling problems. You'll also be able to predict five-star ratings for your team and get insights about how to help them reach and stay at that high level.
With all-in-one skilled nurse time management software from SmartLinx, you have access to employee time tracking software, an onboarding system and Payroll-Based Journals.
Automated Time and Attendance Management. Makes Work Easier & More Efficient.
Reduce Overtime
Dramatically reduce costly overtime, promote employee accountability, and drive productivity
Make Informed Decisions
Actively manage labor costs with real-time human capital management intelligence
Optimize Employee Scheduling
Automatically adjust schedules based on census values and use predictive staffing to know if you'll be under-staffed.
Manage Call-Outs and PTO
View availability pool, find and notify replacements, and receive confirmations via text message and SmartLinx Go!