All-in-One Workforce Management Solution for Nursing Homes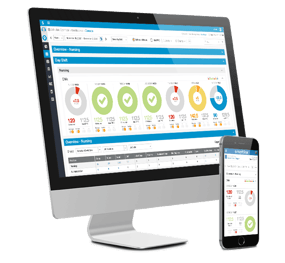 Finding software for nursing home management that seamlessly addresses your field's unique needs offers many advantages. Make operations easier, navigate requirements more smoothly and ensure your employees can focus on optimal care for residents with nursing home workforce management solutions. Our comprehensive solution addresses your operation's pain points around workforce management by providing real-time data and accessible technology to handle your requirements.
Scheduling and Analytics Built for Your Requirements
Do you need an efficient system to manage employee shifts and work times? Our nursing home software allows you to track time and attendance, generate schedules in seconds and fill open shifts quickly. You can also provide your employees with real-time information on payments and hours worked so they can track their progress.
With our solution, employees can manage tasks such as requesting time off and correcting small time clock errors by themselves, so your HR team is free to focus on other priorities. SmartLinx's flexible rule engine enforces best practices and ethical behavior to eliminate excessive overtime, time theft and buddy punching. You'll receive alerts and analytics regarding overtime, manual corrections and employee turnover to optimize management.
Trusted Data to Ensure Compliance
Ensure full compliance with regulations when you use SmartLinx solutions. You'll get accurate, automated data collections for the Payroll-Based Journal (PBJ) and have reliable information to meet the Affordable Care Act (ACA) and other compliance requirements. In minutes, you can aggregate your data and electronically file it. When you work with our software, you can take the complexity out of compliance and management, save time, reduce manual calculations and filing requirements, and better focus on caring for your residents.
Streamline Your Workforce Management System with Smartlinx's Solutions Suite
SmartLinx connects every employee and schedule to actual time and attendance on a unified platform, giving you trusted staffing insights in real-time to help you deliver the highest quality care at the lowest possible cost for every shift and nursing home facility.
Optimize staffing to quality and efficiency
Using real-time integrated scheduling & attendance tracking to adapt to changing staffing needs and regulatory demands and prevent cost overruns and compliance issues.
Predict Five-Star score and preempt staffing issues
Through machine learning and real-time integrated scheduling & attendance tracking to remediate nurse staffing issues and achieve target CMS rating.
Submit accurate, audit-ready Payroll-Based Journal (PBJ)
With automated collection and classification of all CMS (including ACA)-required staffing information and real-time integrated time & attendance to fully comply and advert penalties.