SmartLinx Go - Mobile Shift Management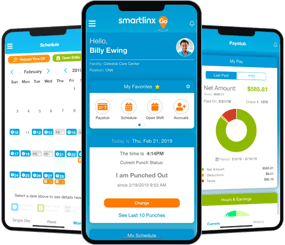 Smartlinx connects every employee and schedule to actual time and attendance on a unified mobile app, giving you trusted nurse staffing insights on the go to help you deliver the highest quality care at the lowest possible cost for every shift and facility.
With early wage access, payment, scheduling, and personal data at their fingertips, the Smartlinx Go platform empowers employees to manage their schedules and stay up to date on changing needs at your facility. They can choose their preferred communication method — whether that's an in-app notification, text, email or another medium.
With our app for nurse scheduling, you can identify employees who are likely to work overtime. You can also proactively address labor requirements so overtime won't need to happen. Ensuring you fill shifts and reduce overall labor costs and streamline workflow throughout the day. You can also keep employees informed on real-time shift openings to ensure the right staff members are handling operations at the right time.
Tailor Nurse Schedules Based on Availability and Residents' Needs
Optimize staffing to quality and efficiency
Using real-time integrated scheduling & attendance tracking to adapt to changing staffing needs and regulatory demands and prevent cost overruns and compliance issues.
Employee Engagement
Access tools to develop a more connected, communicative, and empowered workforce to combat turnover and promote retention.
Mobile Shift Management
Employees receive notifications of available open shifts, new schedules, scheduling changes, and more direct to their mobile device!
Simpler, smarter, and cost-effective scheduling
SmartLinx gives you the visibility, real-time data, and automated functionality you need to keep staffing costs at a minimum without compromising quality or compliance.